FMHS Hub


Teaching and Learning Hub

FMHS Hub


Teaching and Learning Hub
myPaediatrics
Why was the website developed?
to manage increasing numbers of students across multiple teaching sites where students have decreasing opportunities for patient contact and where teaching resources have not been significantly increased.
to reflect the presenting complaints curriculum adopted by the Department of Paediatrics which provides students with the opportunity to start developing clinical reasoning skills.
to give students access to resources not readily available elsewhere - particularly recorded demonstrations of experienced practitioners carrying out physical examinations on very young children.
What has been achieved?
Students and teachers are presented with a well-defined curriculum with clear objectives and directions to relevant resources.
The presenting complaints format encourages students to store their knowledge in the same form that they will retrieve it when they encounter clinical problems. The opportunity to 'practice' with the case examples gets students used to using their knowledge as they acquire it.
Video demonstrations of examinations and other important procedures ensure students get the same opportunity to observe clinical skills. Many of the demonstrations show experienced consultants modelling examinations of children under the age of six - the most challenging age group for students. Video enables students to view demonstrations repeatedly.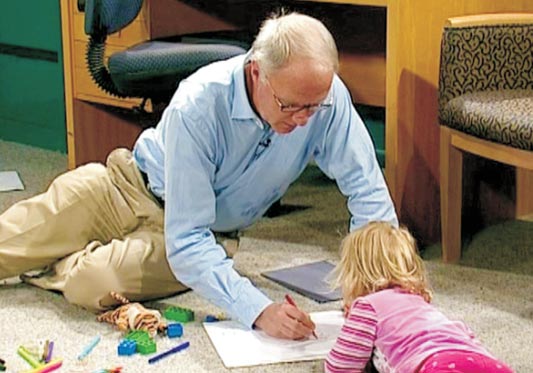 The website fosters self-study and independent learning skills which are fundamental for life-long learning. Students find the website easy to access and negotiate and say it helps to focus their study. The website was never intended to be a 'one-stop-shop'. It was designed to complement the learning of clinical skills in work-based settings.
The site was developed using CourseBuilder, a development tool created by The Centre for Academic Development (CAD) which enables staff to easily create and update web based content. Ralph is now able to maintain the website himself with minimal input from technical staff.
Who was involved?
Dr Ralph Pinnock: Consultant paediatrician and senior lecturer, Department of Paediatrics, Child and Youth Health
Fiona Spence: Learning designer (Independent contractor)
CAD staff - eLearning Design and Development Group
Craig Housley and Wen-Chen Hol: Web design and development
Richard Smith: Television production
Tony Chung: Graphic design

Many other practitioners, families and children contributed also.
Ralph received a TIG grant in 2008 and used the grant for development of the site. The team worked together consistently for the best part of a year in order to get the site complete.
Student feedback
About the presenting complaints curriculum
"Much easier to retrieve knowledge efficiently when seeing patients"
"Helps develop an approach to the way you encounter patients - as opposed to having to learn a list of diseases."
"It is as good as seeing a child in real life. They present to us with complaints that could be due to a number of causes, so learning this way is more practical and clinical."
"Links directly with the approach to seeing patients in clinical practice. Helps to shape a working diagnosis and think in terms of likely differential diagnoses"
About the website
"The learning objectives are very clearly displayed and great quality videos and images that would otherwise be very hard to find on the internet. Each section is followed up by case examples that encourages me to use what I've learnt and actually THINK instead of memorizing lists."
"Great main points for the main topics, case examples to work through step by step are so helpful, the viewing sections are fantastic and overall the website is a really comprehensive study tool in learning about and how to assess and work through common presenting conditions."
Online evaluation

| | | |
| --- | --- | --- |
| How helpful did you find the website in learning paediatrics? | 87% | helpful / very helpful |
| How helpful did you find the curriculum being presented a series of presenting complaints? | 94% | helpful / very helpful |
| How did you find the layout and design? | 84% | logical / very logical |
| Did the website help focus your study of paediatrics? | 80% | well / very well |
| How useful did you find the case study examples? | 76% | useful / very useful |
| How did you find the pictures? | 88% | useful / very useful |
| How useful did you find the videos in learning how to examine children? | 86% | helpful / very helpful |