FMHS Hub


Teaching and Learning Hub

FMHS Hub


Teaching and Learning Hub
Enabling review and repitition
What was the teaching/learning problem?
Pharmacology, contains some concepts that have proved difficult for students to master. Despite the textbook, on-line learning material for students to read, face-to-face classes and tutorials, students still found it difficult to fully understand these concepts. They then struggled to grasp subsequent course material that required a sound understanding of the pharmacological concepts.
What did you do to try to solve it?
We approached the Faculty's Learning Technology Unit to seek advice concerning alternative ways to deliver specific aspects of pharmacological content to students. The Learning Technology Unit recommended the use of Articulate Presenter for the following reasons:
It had been used for different courses in different schools with positive evaluations from students and lecturers.
The software is easy to use - it is integrated with PowerPoint and accessed through a drop down menu system that opens a recording dialogue box.
How successful was your intervention?
Students found that the Articulate Presenter files:
provided reviewable, repeatable resources that helped them learn difficult concepts.
covered content about selected key concepts
enabled them to pause, rewind, and repeat difficult concepts
allowed theopportunity to refer to a textbook before moving on to the next topic.
enabled progress through concepts at their own pace
The files were available via the LMS, which meant students could access them anywhere, anytime. Also the files could be saved by a student to become a resource they could refer back to at any time over the course of their studies.
The teaching staff found Articulate Presenter easy to use and enjoyed the ability to independently create the learning objects.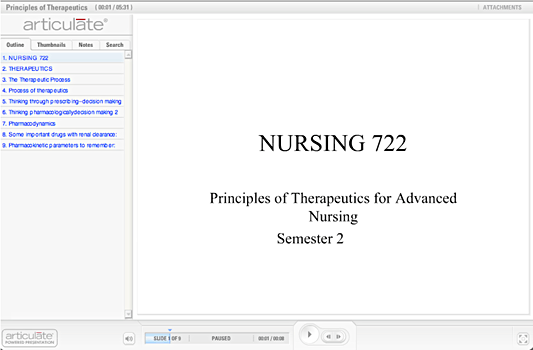 What was the feedback from students?
Overall the comments were positive with a number of students suggesting that the Articulate Presenter files would be useful within other courses. Here are some of the comments received from students:
"Excellent for revision"
"Helps reinforce things"
"Allowed me to revise a poorly understood concept".
"Useful to clarify important points",
With regard to students' learning preferences a wide range of comments were found and clearly some students enjoyed learning with the sound and PowerPoint slides, whilst others did not. For example:
"you can repeat [the content] over and over again - but it's not really suitable for my learning style, but others may enjoy them",
"good for auditory learners".
"I found the verbal medium easier to understand and I think it's good to have a mixture throughout the course for different learning styles".
"nice change from reviewing using books".
"feeling like I was in a classroom type environment. The sound of [the teacher's] voice bought more clarity to what I was trying to read, digest and understand".
However, students also identified limitations related to the lack of interaction:
"You can't ask questions like in class"
"Not so interesting as there was no interaction".
What were the lessons learned/challenges?
Our choice of Articulate Presenter was a pragmatic one based on meeting the needs of a lecturer with limited time by providing easy to use software for rapid e-learning authoring.
We did not use the full range of features available in Articulate Presenter as we used the basic version. For example, it is possible to insert Shockwave Flash Files (SWF) which would mean that we could include, for example, animations of drug interactions. Articulate Presenter also supports the inclusion of video files and/or links to external resources. Such additional features would enhance the learning experience.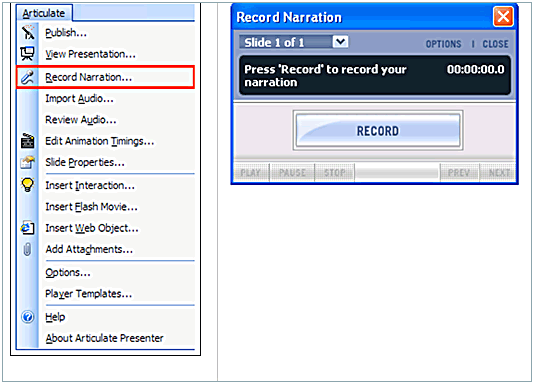 However, once we begin to develop more complex learning designs that include a range of media, the question of resourcing becomes apparent. At the "basic" level of presentation, lecturers produce and maintain their own elearning content. As the design and associated media become more complex lecturers require more assistance. There is a constant trade-off between maintaining simplicity and independence while producing your own resources, or losing some independence and involving others with more expertise (e.g. the LTU) to assist you to develop something with more complexity.
Who was involved?
Gigi Lim - Course coordinator
Dr. Michelle Honey - Academic Support
Dr. Iain Doherty - Director LTU
If you would like to find out more about this item, contact g.lim@auckland.ac.nz.